There's something about sunny summertime evenings that make us want to gather up a bunch of our favourite people, cook tasty treats and shake up a batch of fresh drinks. FSC-certified products are there to lend a helping hand and make you the host with the most, so you can keep an eye on the planet and the other on making sure everyone's drinks are refreshed.
When you're thinking of your next sustainable summer soiree, consider that plenty of party-throwers and goers are on the same track. Global Consumer Research tells us that consumers now see climate change and biodiversity loss as the top two drivers of paper-based products, and that's an assurance that the FSC seal guarantees.
GIVE YOUR SUMMER GET TOGETHER AN ECO-FRIENDLY ANGLE
A set of five Williams Sonoma FSC Certified Essential Utensils will make you feel ready for anything your kitchen throws at you, and with lots of people enjoying themselves around you, there are bound to be a few surprises in the mix. You can stir, strain and scrape to your heart's content with this Italian-made set, elegantly crafted in Italy out of walnut. Their ultra-smoothness makes them safe for non-stick, glass and porcelain cookware, so you can cross that stress off your list.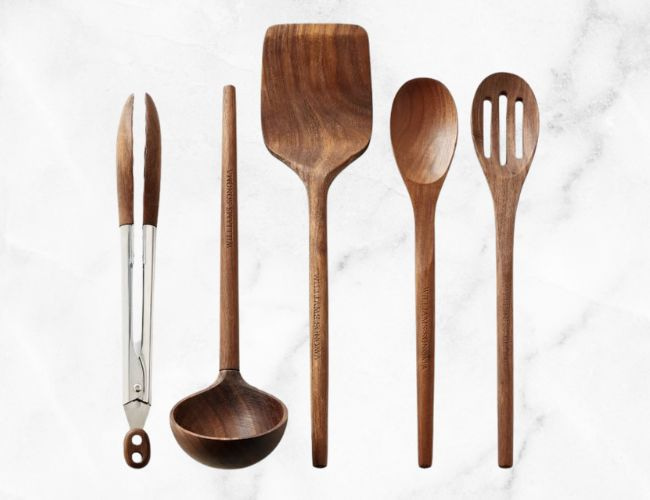 The sturdy Slatted Buffet by West Elm brings a touch of mid-century modern style to any evening. Made with kiln-dried wood for extra durability, set atop sturdy metal legs, this piece of FSC-certified furniture is the perfect surface to lay out all those delicious dishes you've been working on (with added trivets for the hot ones, of course).
To give yourself a bit of a break in the clean-up department, set up glasses full of Green Lid's Birch Cutlery on your buffet serving station, leaving the guilt of plastic utensils far behind. And no worries about them going to landfill either, these sustainable products are made from ethically sourced trees that are 100% compostable.
If seating is a concern in your spot, add a couple of Indio FSC Eucaplytus Patio Barstools to the décor, sure to bring a laid-back festive atmosphere along with them. Stylish and sleek in a hand-painted weathered grey tint, these tall FSC-certified chairs will easily blend into your background when not in use.
It's always fun to end things on a sweet note, and On the Bend's Maple Cotton Candy can give a touch of country fair flare to your affair. Lay out these goodies on your dining room table after dinner or send guests off with the melt-in-your-mouth treat that they can snack on at their leisure, with childhood nostalgia in toe.
Once everyone has gone home, what will be left is you… and a bit of a mess. Bounty's Select-A-Size Sheets are the sustainable paper towels that let you choose how much to use, and you'll be happy to have them on-hand to tackle any remaining spills as greenly as possible.
Visit ShopFSC.ca for hundreds more FSC-certified products
To learn more about FSC and what we do, please visit www.ca.fsc.org
Copyright 2022