During the week of September 24, we are raising awareness about the critical role forests play in our current shared efforts to fight climate change. With the theme of "Choose Forests, Choose FSC" in the air, it's the perfect time to consider getting your hands on sustainable home furnishings that are made with the utmost respect for some of our most cherished ecosystems.
There are plenty of companies jumping on board to make your sustainable home shopping a snap, with FSC-certified furniture and accessories ready to step into the limelight.
Speaking of snap, be sure to snap a photo of your favourite FSC-certified products and home goods and share it during FSC Week (Sept 24-30). Remember to tag FSC Canada along with all of your forest-loving friends.
SUSTAINABLE HOME FURNISHINGS FOR YOUR WHOLE ABODE
A perfect sidekick to any calming and elegant bedroom, West Elm's Penelope Nightstand can fit plenty of décor styles, thanks to its neutral tones and soft lines, while still holding its own by bringing a rich acorn finish to the setting. Rest your nighttime read on its white marble surface with ease before hitting the hay, knowing this piece was crafted in a fair-trade factory.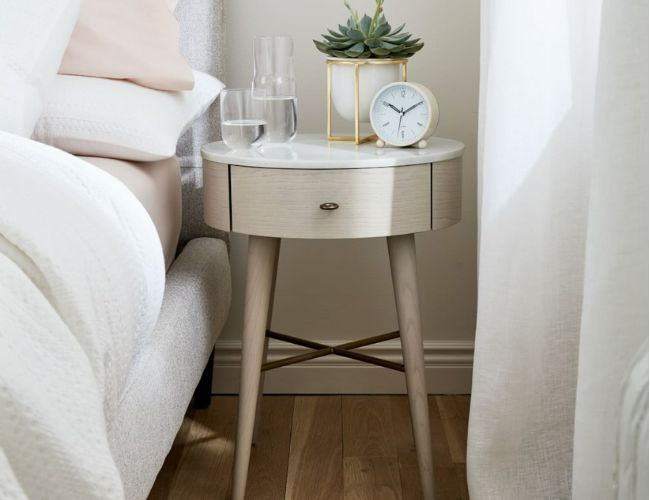 Though this plush couch is sure to become your living room's cozy centre, the Gather Deep Sofa from Crate&Barrel has an FSC-certified engineered hardwood frame that's kiln-dried, so it won't warp, meaning it's as tough as it is comfy. Deep and soft, but still firm, it will be the star of both your next gathering and nap session.
When looking to keep your office sleek and de-cluttered so your brain and focus can reign supreme, Teknion brings the perfect addition to the table in the shape of the Byward desk. With height adjustability and the possibility of expanding with additional storage, this piece can grow along with you and your ambitions.
Bringing all the comfort of an easy chair to something built to rock and weather storms alike is no small feat. That's exactly what Pottery Barn did with its Indio Eucalyptus rocking lounge chair. This FSC-certified chair can turn your patio into your favourite space in (or outside) your house.
We all feel that daily grind, but Williams Sonoma's FSC Traditional Walnut Salt & Pepper Mill Set turns that into a positive thing. With these Italian kitchen goods made with FSC-certified wood harvested in the U.S. on-hand, you'll be all too happy to crank things up when seasoning your favourite dishes like a pro.
Bring an extra layer of reflective depth to your foyer by hanging the Eucalyptus Wood Frame Ledge Round Wall Mirror from West Elm on its walls. This FSC-certified wood frame ledge mirror with a water-based walnut finish is 30 inches wide, so you can catch a full view on your way in or out.
Visit ShopFSC.ca for hundreds more FSC-certified products
To learn more about FSC and what we do, please visit www.ca.fsc.org
Copyright 2022